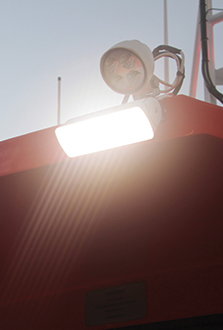 Reliability
Due to the solid state nature of LEDs there are no filaments to break, however LEDs do require precise current control, overvoltage and spike protection to avoid any premature damage.
For LED luminaire designers and manufacturers, in depth design and engineering know how is required to produce durable products with reliable performance year after year.
Considerations such as hermetically sealed housings, sealed cable entries, effective electronic protection, shock, vibration and impact resistant components all contribute towards long term reliability. Compared to incandescent lighting, where a filament inside a bulb may break at any moment, HELLA LED lighting is designed as a reliable Fit and Forget solution.