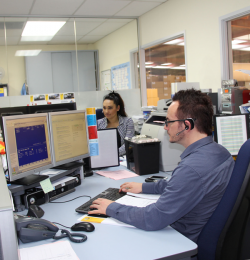 HELLA's dedicated customer services team.
Customer Service
HELLA backs up its products with a dedicated customer services team that can advise customers on product availability, product selection, installation and delivery.

The advantage of manufacturing a large percentage of our products locally; for both local customers and a large overseas client base, allows for a high degree of flexibility and customisation unmatched in the New Zealand automotive industry, thus our order fill rate ranks consistently among the highest in the industry.

HELLA customer service provides customers with 'best fit' solutions based on sound professional knowledge and experience in the commercial transport sector. With access
to a wide global database within the HELLA group, customer service is the recommended first stop for any customer inquiries.
For Hella New Zealand contact information click here.