LED Light Bar 350 with HD Bracket
HELLA's popular LED Light Bar 350 is now also available with a heavy duty bracket that will suit most vehicle installations. It is easy to mount and adjust and therefore ideal for numerous applications. Made of stainless steel, the new heavy duty bracket is ultra durable and non corrosive and the perfect choice for on and off road and applications in harsh environments.
The dust and waterproof Light Bar comes in two different beam patterns – High Beam (Ref. 20 with 1 lux at approx. 320 metres) and Pencil Beam (Ref. 30 with 1 lux at approx. 380 metres).
The hermetically sealed and submersible Light Bar features a Multivolt™ circuit for optimum brightness at input voltages from 9 to 33 volts. It is fully road legal with ECE approval and comes with a comprehensive 5 year warranty, making the light bar the ideal choice for applications where durability and reliability are essential.
• 12 high performance automotive grade LEDs
• Approved for use in New Zealand and Australia
• Maximum luminous intensity of 145,000 candela
• Low power consumption
• Highly adaptable mounting system
• Available with stainless steel mounting brackets
• Thermally conductive non-metal housing
• Light weight of only 700g

To find a HELLA reseller near you, click here.
View below the Number Plate Brackets which suit the LED Light Bar Range: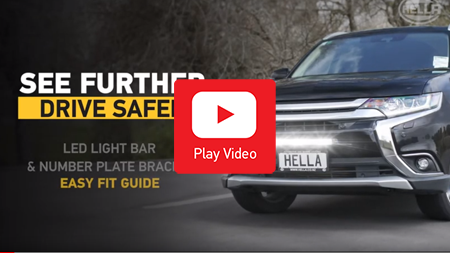 Rollover/tap the icons below for further details:

Fit and Forget
Fit and Forget by Design means every aspect, material and component of this lamp has been carefully chosen to ensure longevity in the most demanding environmental conditions.

LED Technology

ECE Certified
Product has been type approved to all relevant UN ECE Regulations to allow use on Australian and New Zealand roads.

Multivolt™
Multivolt™ for optimum performance in 12 and 24 volt systems.

12 LED

Corrosion Proof

Stainless Steel Bracket
Benefits include strength and corrosion resistance.

UV Resistant
HELLA New Zealand LED lamps are designed to withstand harsh environmental conditions and will tolerate long term exposure to high UV levels without fading or embrittlement.

5 Year Warranty
This LED based lighting product carries a 5-year warranty covering faults in materials, components or workmanship. Please refer to HELLA's full terms and conditions.

Made in New Zealand
Options
Specifications
Mounting

Horizontal mounting. Upright or pendant.

Voltage

Multivolt™ for optimum brightness at input voltages from 9 to 33 volts.

Power Consumption

25W

Maximum Luminous Intensity

| | |
| --- | --- |
| 1395HD: | 96,000 candela |
| 1396HD: | 145,000 candela |

Protection

Reverse polarity and transient spike protection.

| | |
| --- | --- |
| IP 6K7 | (Protection against dust and temporary water immersion) |
| IP 6K9K | (Protection against dust and high-pressure/steam jet cleaning) |

Cable Length

Pre-wired with 2.5m of tinned multi-core cable.

Spare Parts

Compliance

E4

2909
R10/04

1395HD:

E24

0008
R112/01
Ref. 20
1396HD:

E24

0009
R112/01
Ref. 30

Contents

| | | |
| --- | --- | --- |
| 1 x LED Light Bar 350 | 2 x HD mounting brackets | 1 x Instruction booklet |
| | | |
| | | |
Outline

LED Light Bar 350 - HD Bracket. All dimensions in mm.
Light Output

LED Light Bar 350. Recorded with two lamps. Distance in metres.