Rallye 4000 LED High Beam Driving Lamp
The new Rallye 4000 LED driving lamp combines performance and durability like never before. These lamps are sturdy and reliable with an efficient low power consumption of 33W. The high efficacy from the latest technology allows up to nearly 1.3km of light. The LED robustness and durable design allows for a long life and is supported by a HELLA 5 year warranty.
Note: Due to the high performance of these LED driving lamps, they exceed the allowed maximum light intensity to be ECE compliant, and therefore are recommended for Motorsport or off-road use only.
­• Bright white LED light (5900K)
• Two beam patterns, up to 1.3km visibility
• Longer reaching beam than HID Predators
• Lamp inserts can be retrofitted into Rallye 4000 housings
• Shock resistant PC cover lens
• 5 Year Warranty
To find a HELLA reseller near you, click here.
Rollover/tap the icons below for further details:

LED Technology

Multivolt™
Multivolt™ for optimum performance in 12 and 24 volt systems.

Heavy Duty Mount
Sturdy housing design for use under heavy duty conditions.

UV Resistant
HELLA New Zealand LED lamps are designed to withstand harsh environmental conditions and will tolerate long term exposure to high UV levels without fading or embrittlement.

5 Year Warranty
This LED based lighting product carries a 5-year warranty covering faults in materials, components or workmanship. Please refer to HELLA's full terms and conditions.
Specifications
Mounting

Upright or pendant

Voltage

Multivolt™ for optimum brightness at input voltages from 9 to 32 volts

Power Consumption

33W

Light Temperature

5900K

Weight

2.7kg

Protection

IP 6K7
Protection against dust and temporary water immersion
IP X9K
Protection against high-pressure cleaner, specific for road vehicles
(Not suitable for submersion)

Cable Length

400mm multi-core cable and plug

Compliance

| | |
| --- | --- |
| ECE R10 | |

Spare Part

Rallye 4000 LED Driving Lamp Insert
Part Number
Beam Type
1F8 241 430-011
Wide Beam
1F8 241 449-011
Narrow Beam
Suitable Halogen part numbers that may be converted:
1365, 1366, 1366CHROME, 1366C-BLUE, 1165 (to convert from fog to driving)
Outline
Rallye 4000 LED Driving Lamp Dimensions in mm.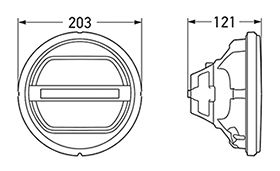 Lamp Insert Dimensions in mm.
Light Output

Narrow Beam. Light distribution is recorded with 2 lamps. Distance in metres.
Wide Beam. Light distribution is recorded with 2 lamps. Distance in metres.