Superior Lens & Optic Material
The majority of HELLA DuraLED® and EuroLED® lamps are produced using specially formulated enhanced high impact acrylic, that has superior resistance to most commonly used wash and cleaning liquids.
HELLA recommends these hermetically sealed marker and signal lamps for most commercial transport applications to provide an ultra long term and environmentally friendly lighting solution.
In 2009 HELLA took the design and development of ultra durable lighting solutions to a new level by specifying the Swiss Made high-tech material Grilamid® for some selected applications.
Grilamid® has quickly become the material of choice for the discerning equipment operator and fleet managers.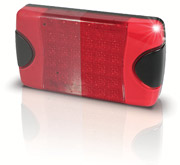 Easy Refurbishment of Acrylic and Grilamid® Lenses
In a world consuming resources at an ever increasing rate, HELLA LED
lamps manufactured with enhanced impact acrylic and Grilamid® are a
truly long-term investment.
Both these materials can be refurbished to near new condition by polishing out fine scratches and road grime.
As illustrated in the photo, a DuraLED® lamp with several years of active high mileage road use can be refurbished to pristine near new condition.