LED Courtesy Lamps - Round - White - Clear Lens
Attractive, energy efficient round LED courtesy lamps for interior and exterior use. Available in nine exciting colours with a range of different rim finishes.
RFCommSafe™ - To view and download more information please click here
To view product designed for the New Zealand market, please click here
Rollover/tap the icons below for further details:

Fit and Forget
Fit and Forget by Design means every aspect, material and component of this lamp has been carefully chosen to ensure longevity in the most demanding environmental conditions.

RFCommSafe™
RFCommSafe™ products were developed in recognition that some radio communication equipment can be very sensitive in remote areas. RFCommSafe™ products are designed to ensure no interference with any other electronic equipment.

High Impact Acrylic Lens Material
This specially formulated high impact acrylic (PMMA) offers enhanced resistance against long term UV-exposure and commonly used chemical washes, liquids, etc.

UV Resistant
HELLA New Zealand LED lamps are designed to withstand harsh environmental conditions and will tolerate long term exposure to high UV levels without fading or embrittlement.

5 Year Warranty
This LED based lighting product carries a 5-year warranty covering faults in materials, components or workmanship. Please refer to HELLA's full terms and conditions.

Dimmable Analogue DC Input
Light intensity is reduced as the DC input voltage is reduced below the lamps specified operating voltage.

Made in New Zealand
Options
Specifications
Mounting

Recess mount with 50mm diameter hole.

Power Consumption

<1W

Protection

Reverse polarity and voltage spike protection
Fully sealed against dust, high-pressure washing and temporary water immersion.

Cable Length

Pre-wired with 120mm of cable.

Lens Material

PMMA
Outline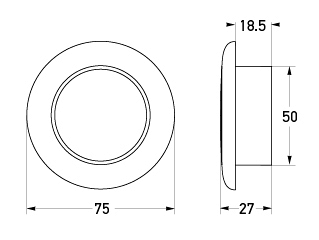 All dimensions in mm.