LED Rear Position Lamp - Red
LED rear position lamp with inbuilt red retro reflector. Bridge circuit for protection against polarity reversal.
To find a HELLA reseller near you, click here.
Rollover/tap the icons below for further details:

LED Technology

ADR (Australian Design Rules) Compliance
Product is compliant to all relevant Australian Design Rules to allow use on Australian and New Zealand roads.

ECE Certified
Product has been type approved to all relevant UN ECE Regulations to allow use on Australian and New Zealand roads.

5 Year Warranty
This LED based lighting product carries a 5-year warranty covering faults in materials, components or workmanship. Please refer to HELLA's full terms and conditions.
Options
Specifications
Mounting

Surface mount.
Suitable for horizontal mounting.

Power Consumption

Protection

Fully sealed against dust, high-pressure washing/steam jet cleaning.

Cable Length

Pre-wired with 5m of sheathed multi-core cable.

Compliance
Outline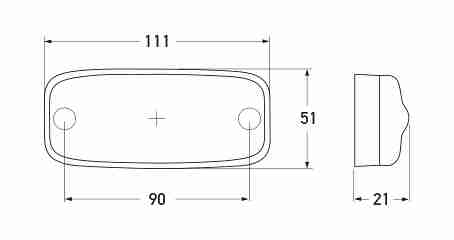 All dimensions in mm.