K-LED Rebelution LED Warning Beacons
THE NEXT GENERATION OF LED BEACONS
The K-LED Rebelution is a true innovation and game changer in the warning lights sector. EdgeLight Technology was used during the design and development of the new K-LED Rebelution. This technology originates from rear lamp manufacturing and has been applied to the sector of optical warning systems. HELLA has eliminated the need for a classical dome and created a modern, minimalist design with maximum performance. The distinctive and futuristic ring-shaped light band emits a clearly visible 360 degree warning signal.
Its discreet modern design allows the beacon to blend in perfectly with the appearance of the vehicle. At only 61mm in height and 149mm in diameter, the beacon is extremely compact in size, making it ideal for vehicles subject to a height restriction.
Further advantages are protection against water and dust, as well as outstanding electromagnetic compatibility (EMC). The LED technology, materials and the innovative design ensure durability and reliability even during continuous operation for a long service life.
To find a HELLA reseller near you, click here.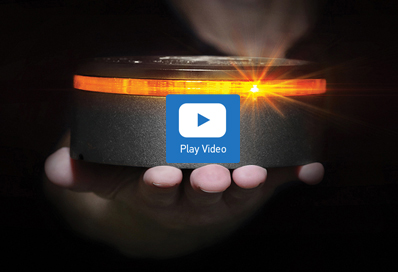 Rollover/tap the icons below for further details:

LED Technology

ECE Certified
Product has been type approved to all relevant UN ECE Regulations to allow use on Australian and New Zealand roads.

12 Volt
Suitable only for 12VDC applications.

24 Volt
Suitable only for 24VDC applications.

Corrosion Proof

UV Resistant
HELLA New Zealand LED lamps are designed to withstand harsh environmental conditions and will tolerate long term exposure to high UV levels without fading or embrittlement.

5 Year Warranty
This LED based lighting product carries a 5-year warranty covering faults in materials, components or workmanship. Please refer to HELLA's full terms and conditions.
Options
Specifications
Mounting

Surface mounting

Voltage

12/24 Volt

Power Consumption

| | | | |
| --- | --- | --- | --- |
| Rotating | 13 Watts | 1.08 A (12 V) | 0.54 A (24 V) |
| Flashing | 38 Watts | 3.16 A (12 V) | 1.58 A (24 V) |

Protection

Reverse polarity protection
IP 6K7
(Protection against dust and temporary water immersion)
IP 6K9K
(Protection against dust and high-pressure/steam jet cleaning)

Cable Length

150mm Cable

Lens Material

Polycarbonate

Housing Material

Aluminium

EMC Protection
& Compliance

| | | | |
| --- | --- | --- | --- |
| ECE-R10: 058840 | Rotating:CISPR 25 Class 3 | Flashing:CISPR 25 Class 5 | |

Technical Light Homologation

ECE-R65 TA1

Operating Temperature

-40°C to +60°C
Outline