The K-LED Nano is the smallest beacon in the HELLA range to date.
Despite its compact design, it achieves J845 Class 1 certification through an attention-grabbing warning effect, with its flashing, long-range amber light signal. The beacon is insensitive to vibrations and shocks, thanks to the energy-efficient, long-life LED technology. Advanced LED technology also means the warning signal is generated without moving parts. The robust housing and the impact-resistant light dome are both waterproof and dustproof. The beacon is available as both a variant for fixed mounting, and for flexible pipe socket mounting with a vibration‑damping base plate and automatic reset.
Compact design
SAE J845 Class 1 certified
High intensity light output
Vibration and impact-resistant
Completely sealed against dust and water
To find a HELLA reseller near you, click here.
Rollover/tap the icons below for further details:

ECE Certified
Product has been type approved to all relevant UN ECE Regulations to allow use on Australian and New Zealand roads.

12/24V Dualvolt
Can use either 12 or 24V

Flexible Version
Pipe mount is flexible, so it softens impacts and minimises the risk of damage if hit.

Options
Specifications
Mounting

Upright, fixed mounting on horizontal surfaces

Voltage

12V / 24V

Power Consumption

Nominal 5W
Max. 19W

Protection

| | |
| --- | --- |
| IP 6K7 | (Protection against dust and temporary water immersion) |
| IP 6K9 | (Protection against dust and high-pressure/steam jet cleaning) |

Flash Rate

124 +/- 10 per minute

Cable Length

| | |
| --- | --- |
| Fixed Mounting | 150 mm cable |

Accessories

Pipe Socket Mounting
8HG 002 365-001
2 Pole beacon mount - Pipe
8HG 006 294-011
2 Pole beacon mount - Flat mount
8HG 006 294-111
2 Pole beacon mount - Flat angle mount
8HG 006 294-051
2 Pole beacon mount - Threaded mount

RF Suppression

Compliance

ECE R65 TA1 005218, SAE J845 Class 1
Outline
2XD 066 146-001 K-LED Nano Fixed Mounting (Dimensions in mm)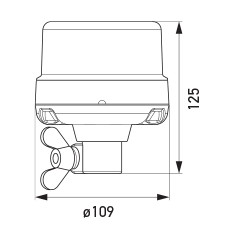 2XD 066 146-011 Flexible Pipe Socket Mounting (Dimensions in mm)