HypaLUME 24/48V DC LED Flood Light - Heavy Duty
The 24/48V DC HypaLUME has been designed for applications where high output lighting in extreme environments is required. The lamp produces a net output of 25,000 lumens whilst consuming less than 260W.
Comprehensive sealing and anti-corrosion measures have been taken to ensure this lamp withstands the toughest conditions. The premium aluminium housing is corrosion resistant with a nonstick and easy to clean surface coating. Heavy duty Grilamid® lens offers unbeatable toughness against impacts and vibration while providing long term UV stability and resistance to commonly used chemicals for the life of the product. The LEDs have a colour temperature of 5700K to provide a near daylight work environment that is optimal for fatigue avoidance and high alertness.
The LED driver electronics ensure light output remains stable over a wide range of voltage variations. The HypaLUME is also protected from reverse polarity and short circuit faults. The HypaLUME is designed to operate over an extreme temperature range from -40°C to +50°C.
The advanced thermal management draws heat away from the LEDs to maintain optimum lumen performance for the life of the lamp.
Rollover/tap the icons below for further details:

LED Technology

Grilamid® Lens
Grilamid® is a high performance polyamide manufactured in Switzerland. The revolutionary transparent plastic offers an unbeatable combination of exceptionally high impact strength and resistance to long-term UV-exposure and chemical damage.

Heavy Duty Mount
Sturdy housing design for use under heavy duty conditions.

Stainless Steel Bracket
Benefits include strength and corrosion resistance.

UV Resistant
HELLA New Zealand LED lamps are designed to withstand harsh environmental conditions and will tolerate long term exposure to high UV levels without fading or embrittlement.

5 Year Warranty
This LED based lighting product carries a 5-year warranty covering faults in materials, components or workmanship. Please refer to HELLA's full terms and conditions.

Made in New Zealand
Options
Specifications
Mounting

Upright or pendant.

Voltage

Optimum brightness at input voltages from 22 to 52 volts

Power Consumption

260W max. (10A @ 24V DC)

Actual Light Output

25,000 lumen

Operating Temperature

-40oC to +50oC

LED Colour Temperature

5700 K

Protection

Reverse polarity, transient spike and over voltage protection
IP 6K7 (Protection against dust and temporary water immersion)
IP 6K9K (Protection against dust and high-pressure/steam jet cleaning)
Advanced thermal management

Cable Length

Supplied with 1.8m of easy plug-in sheathed cable

Connection

4 Pin Deutsch plug

Lens Material

High impact and chemical resistant Grilamid® lens

Compliance
Outline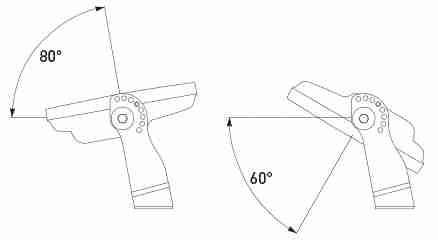 Lamp can be rotated 140°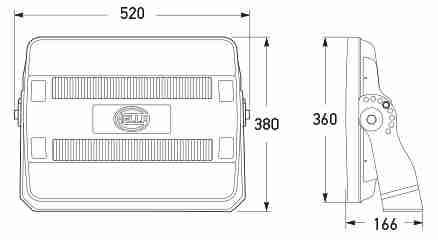 All dimensions in mm