Ultra Beam LED Work Lamp - Heavy Duty
The world's most popular work lamp series, Ultra Beam, has now been expanded
to include an LED close range version with a heavy duty mount. The Ultra Beam LED offers high light output in a practical design, meaning that it can be used anywhere thanks to its compact dimensions.
The light output is a powerful 2,200 lumens with a power consumption of only
30W. The light is distributed by a specially developed multifaceted reflector,
thus ensuring homogeneous illumination.
The integrated electronics protect the device in the event of polarity
inversion and guarantee constant brightness, even when operating with voltage
fluctuations between 9 and 33 Volts. This ensures that the work lamp stays
functional and guarantees safe working at night.
With its colour temperature of 5,700 Kelvin, the light from the LED work
lamp is very similar to daylight. This helps to distinguish colors more easily
in the dark, and thus facilitate the human eye's sensory perception task. This
prevents the eyes from tiring quickly during work at night. The work lamp's
black housing is made of aluminium and incorporates cooling fins. These ensure
sufficient heat dissipation from the 9 high-power LEDs.
To find a HELLA reseller near you, click here.
Rollover/tap the icons below for further details:

LED Technology

Multivolt™
Multivolt™ for optimum performance in 12 and 24 volt systems.

Heavy Duty Mount
Sturdy housing design for use under heavy duty conditions.

Stainless Steel Bracket
Benefits include strength and corrosion resistance.

UV Resistant
HELLA New Zealand LED lamps are designed to withstand harsh environmental conditions and will tolerate long term exposure to high UV levels without fading or embrittlement.

5 Year Warranty
This LED based lighting product carries a 5-year warranty covering faults in materials, components or workmanship. Please refer to HELLA's full terms and conditions.
Options
Specifications
Mounting

Upright or pendant.

Voltage

Multivolt™ for optimum brightness at input voltages from 9 to 33 volts.

Power Consumption

30W

Max. Light Output

2200 lumen

Protection

Reverse polarity and voltage spike protection.

| | |
| --- | --- |
| IP 6K8 | (Protection against dust and prolonged water immersion) |
| IP 6K9K | (Protection against dust and high-pressure/steam jet cleaning) |

Cable Length

Supplied with 2m of sheathed twin core cable and DT plug.

Compliance

| | |
| --- | --- |
| ECE R10 | |
Outline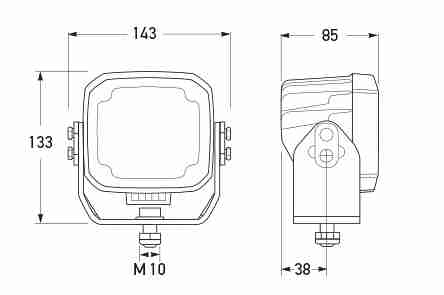 All dimensions in mm.
Light Output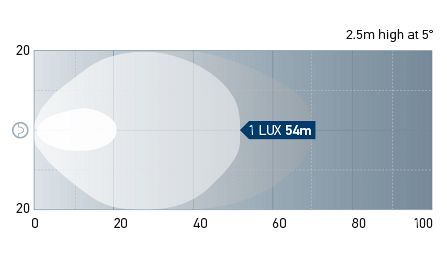 P/N 1562-HD Close Range Beam Pattern.