Power Beam 1500 LED Work Lamp - Heavy Duty
The light from the 6 high-power LEDs is distributed homogeneously across the workspace by a specially developed multi-faceted reflector. Thanks to its powerful light output, the Power Beam 1500 can replace standard halogen work lights (e.g. H3/55 watt) – and does so with a power consumption of just 22 watts. It makes this work light ideal for use on battery-operated vehicles or on vehicles where the alternator is already under a heavy load. The light can be operated with both 12V and 24V. This premium work lamp comes with a powder coated aluminium body and tough nylon lens, and is rated at 1300 lumen.
To find a HELLA reseller near you, click here.
Rollover/tap the icons below for further details:

LED Technology

Multivolt™
Multivolt™ for optimum performance in 12 and 24 volt systems.

Heavy Duty Mount
Sturdy housing design for use under heavy duty conditions.

Stainless Steel Bracket
Benefits include strength and corrosion resistance.

5 Year Warranty
This LED based lighting product carries a 5-year warranty covering faults in materials, components or workmanship. Please refer to HELLA's full terms and conditions.
Options
Specifications
Mounting

Upright or pendant.

Voltage

Multivolt™ for optimum brightness at input voltages from 9 to 33 volts.

Power Consumption

22W

Max. Light Output

1300 lumen

Protection

Reverse polarity protection.

| | |
| --- | --- |
| IP 6K7 | (Protection against dust and temporary water immersion) |
| IP 6K9K | (Protection against dust and high-pressure/steam jet cleaning) |

Cable Length

Supplied with 2m of sheathed twin core cable and DT plug.

Spare Part

| | |
| --- | --- |
| 9.1557.05 | Plug and lead 0.75mm2 |
| 9.1549.05 | Plug and lead 1.25mm2 |

Compliance
Outline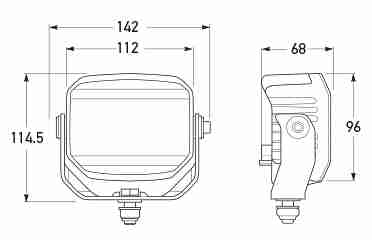 All dimensions shown in mm.
Light Output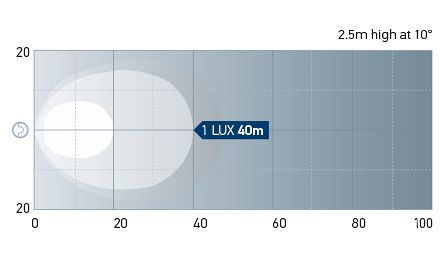 Beam pattern: Power Beam 1500LED - Close Range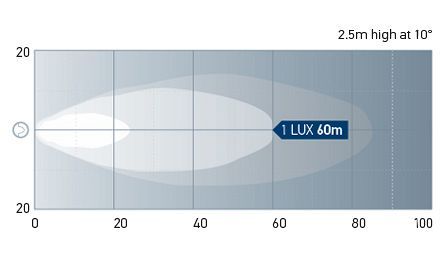 Beam pattern: Power Beam 1500LED - Long Range. One Lux represents the intensity of the light of a full moon (under clear atmospheric conditions) or just sufficient light by which to read a newspaper.