2 Group Light Dimmer 12/24V
The Hella marine 2 group light dimmer provides precise dimming control for one or two separate light groups, and sophisticated voltage regulation with a 'soft-start' feature to lengthen the life of a filament bulb. Suitable for selected HELLA PWM based LED lamps and bulb lamps. The dimmer also provides low voltage protection against deep battery discharge.
The dimmer is operated by one or more parallel connected switches per group.
To find a HELLA reseller near you, click here.
Rollover/tap the icons below for further details:

Multivolt™
Multivolt™ for optimum performance in 12 and 24 volt systems.

Dimmable Analogue DC Input
Light intensity is reduced as the DC input voltage is reduced below the lamps specified operating voltage.

Dimmable PWM
Light intensity is adjusted between 10-100% using a high frequency PWM (pulse width modulation) DC power supply, with adjustable duty cycle control.
Specifications
Maximum Load

| | |
| --- | --- |
| 12V | 2x 100W Group |
| 24V | 2x 200W Group |

Input Voltage Range

8 - 30V DC

System Voltage

Suitable for 12 or 24V systems.

Number of Groups

2

Switches Per Group

Unlimited

Switch Type

Normally open momentary switch.

Protection

Overload, Temperature, Low voltage.

Fuse

2x 10A

Compliance
Outline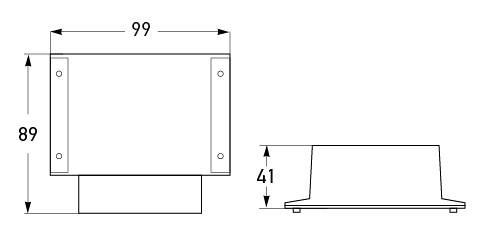 All dimensions in mm.