Voltage Sensitive Relay Module - 12/24V
Digital voltage sensitive relay with dual sensing for 12 and 24 volt systems.
Suitable for boats, caravans and 4WD vehicles, this relay allows a separate battery to be used independently from another battery permitting, for example, the starting battery not to be discharged. However when either battery is charged, the relay will connect both batteries to allow dual charging.
The relay automatically detects either 12 or 24 volt operation. Very low power consumption (less than 2mA) or none in power storage mode.
To find a HELLA reseller near you, click here.
Rollover/tap the icons below for further details:

Multivolt™
Multivolt™ for optimum performance in 12 and 24 volt systems.
Specifications
| | |
| --- | --- |
| Voltage | Multivolt™, suitable for 12 and 24 volt systems. |
| Mounting | Recess or surface mount. |
| Termination | 2 x 6mm studs |
| Maximum Continuous Load | 140A |
Outline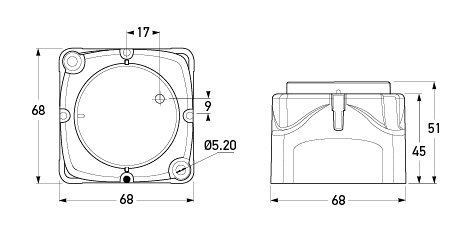 All dimensions in mm.