LED Interior/Exterior Strip Lamp Dual Colour with Switch - Surface Mount
Completely sealed, UV and corrosion resistant these easy to install lamps are ideal for interior and exterior applications. Offering exceptional light output and an ultra low power consumption of only 3W these lamps are an ideal replacement for bulky fluorescent lighting. Producing 250 lumens (white) and offering a leading CRI (Colour Rendering Index) rating these lamps will enhance the appearance of your vehicle and provide bright and accurate illumination.
The low profile design offers an effortless surface mount installation almost anywhere. Mounting screw in each end of the lamp body are covered by snap-on end caps for a clean and modern appearance.
Purpose designed for harsh environments, these surface mount strip lamps are salt water durable and thoroughly tested to withstand high levels of vibration, impact, and shock loads. The housings are precision manufactured from advanced UV resistant acrylic and are completely sealed. They are ideal for interior and exterior, wet or dry applications.
• Dual colour options - White/Red and White/Blue
• 250 lumen light output (white)
• Low power consumption <3W
• Integrated 3 position sealed switch
• Low profile surface mount design
To find a HELLA reseller near you, click here.
Rollover/tap the icons below for further details:

Fit and Forget
Fit and Forget by Design means every aspect, material and component of this lamp has been carefully chosen to ensure longevity in the most demanding environmental conditions.

LED Technology

RFCommSafe™
RFCommSafe™ products were developed in recognition that some radio communication equipment can be very sensitive in remote areas. RFCommSafe™ products are designed to ensure no interference with any other electronic equipment.

UV Resistant
HELLA New Zealand LED lamps are designed to withstand harsh environmental conditions and will tolerate long term exposure to high UV levels without fading or embrittlement.

5 Year Warranty
This LED based lighting product carries a 5-year warranty covering faults in materials, components or workmanship. Please refer to HELLA's full terms and conditions.

Dimmable Analogue DC Input
Light intensity is reduced as the DC input voltage is reduced below the lamps specified operating voltage.

Made in New Zealand
Specifications
Optic

Optic appears clear until illuminated.

Mounting

Surface mount.

Power Consumption

| | |
| --- | --- |
| White function: | <3W |
| Colour function: | <1W |

Light Output

250 Lumen (White)

Colour Temperature

5000K (White)

Protection

Reverse polarity protection.

| | |
| --- | --- |
| IP 6K7 | (Protection against dust and temporary water immersion) |
| IP 6K9K | (Protection against dust and high-pressure/steam jet cleaning) |

Cable Length

Pre-wired with 0.5m of sheathed multi-core cable.

Spare Parts

| | |
| --- | --- |
| 9.2652SW.09 | 1 white switch screw cap + 1 white standard screw cap |
| 9.2652SW.10 | 1 charcoal switch screw cap + 1 charcaol standard screw cap |
| 5XA 998 572-001 | 2 Group Light Dimmer |

Note

Includes white screw caps only.
Outline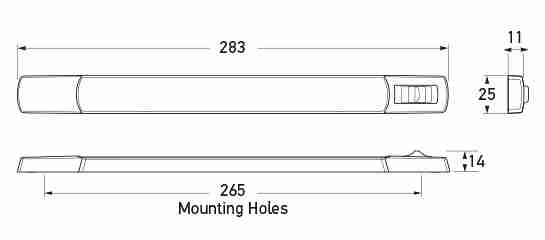 All dimensions in mm.