SCANGRIP® Nova 6K C+R LED Work Lamp
The SCANGRIP® Nova 6K C+R LED Work Lamp is a universal all-round work lamp that can operate both on built in rechargeable battery or 240V input (DUAL SYSTEM) providing endless application possibilities.
Featuring the latest LED technology, the Nova 6K C+R delivers 6000 lumen of extremely high light output with a uniform and completely even illumination. The new light dimmer function also makes it possible to adjust the light into five levels. An intelligent display on the back of the lamp indicates battery capacity and remaining operating time, very useful when using for longer periods.
The robust housing makes the lamp extremely sturdy and impact resistant so ideal for rough, wet and dirty environments. The lamp is also sealed to IP67 so suitable for indoor or outdoor use in all-weather conditions.
A complete range of accessories including SCANGRIP tripod, dual bracket, magnetic mount and scaffolding brackets increase versatility and make the Nova work lamps perfect for all working applications.
• Wide and even spread illumination
• Natural light – colour similar to daylight
• Low current consumption, high efficacy
• Dimmable for longer battery operation
• Strong, sturdy and resistant to water, oil and chemicals
• Intergrated carry handle
To find a HELLA reseller near you, click here.
Rollover/tap the icons below for further details:

LED Technology

Battery Powered

2 Year Warranty
Dimmable Internal Dimmer
Light intensity is controlled through the lamp's own internal circuitry via in-built buttons, an external DC power source and a standard switch. See specific lamp instructions for further information.
Specifications
Voltage

100-240V AC - 50/60Hz

Light Output

| | | |
| --- | --- | --- |
| 6000 lumen @ 100% | 4500 lumen @ 75% | 3000 lumen @ 50% |
| 1500 lumen @ 25% | 600 lumen @ 10% | |

Light Performance

800 - 8000 lux @ 0.5m

Power Consumption

42W max

Operating Time

1 - 12 hours (Depending on output level)

Temperature Range

-10°C to +40°C

Protection

IP 67 (Protection against dust and water splash)

Battery

11.1V/5200 mAh Li-ion rechargeable
2 hour charging time

Cable Length

Pre-wired with 5m of cable (2x0.75 mm2 H05RN-F)

Accessories

| | |
| --- | --- |
| 2XM 530 302-270 | C+R car adaptor |
| 2XM 530 302-245 | SCANGRIP tripod |
| 2XM 530 302-247 | Dual mount bracket |
| 2XM 530 302-249 | Magnetic mount bracket |
| 2XM 530 302-269 | Scaffolding mount bracket |

Compliance
Outline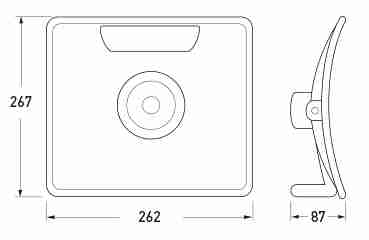 All dimensions in mm