Retro Reflector - 94 x 44mm
94 x 44mm self adhesive (except two bolt hole version), 33cm2.
To find a HELLA reseller near you, click here.
Rollover/tap the icons below for further details:

ADR (Australian Design Rules) Compliance
Product is compliant to all relevant Australian Design Rules to allow use on Australian and New Zealand roads.
Outline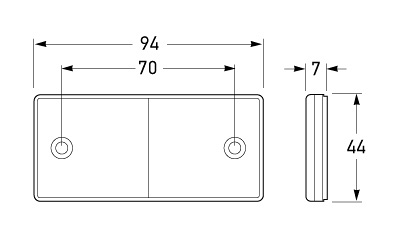 All dimensions in mm. Two bolt holes
All dimensions in mm.