Retro Reflector - 83mm diameter - Bolt Mount
Red acrylic retro reflector 83mm in diameter with black rim, 48cm2. Single bolt mount.
To find a HELLA reseller near you, click here.
Rollover/tap the icons below for further details:

ADR (Australian Design Rules) Compliance
Product is compliant to all relevant Australian Design Rules to allow use on Australian and New Zealand roads.
Specifications
| | |
| --- | --- |
| Mounting | Single bolt mount. |
| Compliance | |
Outline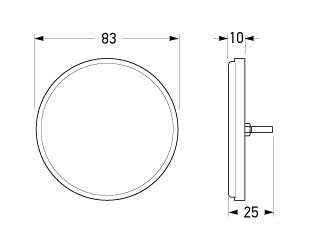 All dimensions in mm.