110mm Round LED Front Position/Front Direction Indicator Lamp with Clear Lens
Designed for commercial transport, buses, caravans and trailers
Direction indicator optic appears clear until illuminated

Low power consumption – Long service life
Economical running costs

Tough under pressure
Completely sealed, maintenance free. Designed to withstand high pressure washing and temporary submersion.

Reliable – durable – ultra long service life
Superior materials feature UV, corrosion, impact and shock resistance ensuring an ultra long service life.
Hella Compatibility Solution HCS
Hella P/N 2131-CS features HCS Technology, patented indicator failure control technology which allows seamless communication with HELLA HCS control flasher units, or modern European trucks with body controllers compliant with the ISO 13207-1 standard. Please click on HCS above for further information.
| | |
| --- | --- |
| | For more information on HELLA Compatibility Solution (HCS) click here. |
To find a HELLA reseller near you, click here
Rollover/tap the icons below for further details:

Fit and Forget
Fit and Forget by Design means every aspect, material and component of this lamp has been carefully chosen to ensure longevity in the most demanding environmental conditions.

LED Technology

ADR (Australian Design Rules) Compliance
Product is compliant to all relevant Australian Design Rules to allow use on Australian and New Zealand roads.

Multivolt™
Multivolt™ for optimum performance in 12 and 24 volt systems.

HELLA Compatibility Solution (HCS)
Available with HCS. For information please refer to HELLA Compatibility Solutions under the Technology / Marker and Signal Lamps section.

UV Resistant
HELLA New Zealand LED lamps are designed to withstand harsh environmental conditions and will tolerate long term exposure to high UV levels without fading or embrittlement.

5 Year Warranty
This LED based lighting product carries a 5-year warranty covering faults in materials, components or workmanship. Please refer to HELLA's full terms and conditions.

Made in New Zealand
Options
Specifications
Optics

Optic appears clear until illuminated

Mounting

Mount only with lens engraving "TOP" located correctly.

Voltage

Multivolt™ for optimum brightness at input voltages from 9 to 33 volts.

Power Consumption

| | |
| --- | --- |
| Front position: | <1W |
| Front direction indicator: | 3W |

Protection

Reverse polarity and 5000 watt Transient Voltage Suppressor (TVS).

IP 6K7 (Protection against dust and temporary water immersion)
IP 6K9K (Protection against dust and high-pressure/steam jet cleaning)

Cable Length

Pre-wired with 200mm of cable.

Compliance
Outline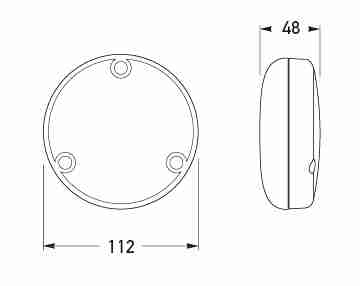 All dimensions in mm.