RED OR BLUE STRIP INDICATES A NO-GO ZONE
Moving vehicles or equipment can be hazardous. One possibility to improve occupational safety is to highlight danger zones optically. For that HELLA has developed VISIOTECH projection technology with which warning signals can be projected on the ground.
The SL60 LED warning lamp has a special lens optic that directs the light rays to converge and become so sharply focused that, depending on the light's orientation, a horizontal or vertical line appears on the ground, day and night. This warning symbol not only alerts vehicles and pedestrians about an approaching vehicle or a potentially dangerous working area, the lines can also facilitate vehicle navigation. The SL60 LED warning lamp is available with red or blue projection line.
Thanks to its compact dimensions, the SL60 LED warning lamp is particularly
well-suited when little space is available for installation. Its power consumption of 7 watts makes this warning light ideal for use on battery-powered vehicles or on vehicles where the alternator is already under a heavy load. An operating voltage from 10 to 80 volts, for example, enables use on 48 V forklifts and similar vehicles with a high DC voltage.
• Increases safety by indicating danger zone
• Projects a red or blue strip-shaped warning line
• 10-80V DC suits many forklifts
• Low power consumption of less than 7W
• Compact and easy mounting
• Fully sealed against dust and moisture
• 5 year Warranty

To find a HELLA reseller near you, click here.
Rollover/tap the icons below for further details:

LED Technology

ECE Certified
Product has been type approved to all relevant UN ECE Regulations to allow use on Australian and New Zealand roads.

Multivolt™
Multivolt™ for optimum performance in 12 and 24 volt systems.

Polycarbonate Lens
Polycarbonate features a high impact resistance when new; however the trade-off is the degradation over time when exposed to a number of commonly used chemicals and long term UV-exposure. The use of Grilamid® lamps are recommended where applicable.

Corrosion Proof

Stainless Steel Bracket
Benefits include strength and corrosion resistance.

UV Resistant
HELLA New Zealand LED lamps are designed to withstand harsh environmental conditions and will tolerate long term exposure to high UV levels without fading or embrittlement.

5 Year Warranty
This LED based lighting product carries a 5-year warranty covering faults in materials, components or workmanship. Please refer to HELLA's full terms and conditions.
Options
Specifications
Voltage

Multivolt 10 - 80V

Power Consumption

| | |
| --- | --- |
| Red: | 5.5 Watts |
| Blue: | 7 Watts |

Protection

Reverse polarity and transient spike protection.

| | |
| --- | --- |
| IP 6K7 | (Protection against dust and temporary water immersion) |
| IP 6K9K | (Protection against dust and high-pressure/steam jet cleaning) |

Cable Length

500mm cable

Lens Material

Polycarbonate

Housing

Aluminium Die Cast

Weight

290g

Compliance

ECE-R10
Outline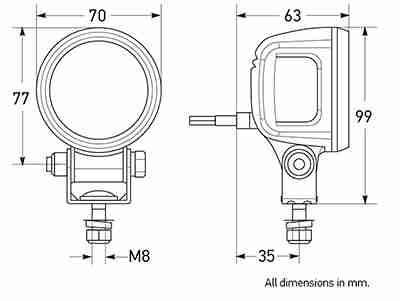 Light Output