C140 LED Combination Headlamp - High/Low Beam and Indicator/Position
The C140 LED is the first combination headlamp on the market to feature all light functions in LED technology: low beam, high beam, indicator and position light (as LED light guide).
The special freeform reflector together with the LED light source produces significantly better light than headlamps with halogen bulbs. With its daylight colour, the light appears far brighter to the eye and makes working at night less tiring. The housing of the C140 LED is made of aluminum and features cooling fins on its rear, which ensures heat removal from the high-power LEDs.
A specially developed thermal design with temperature sensors prevents the headlamp from overheating. With its robust, heavy-duty bracket and a lens made of toughened, shatterproof plastic, the headlamp is particularly resistant to vibration and impact. Ideal for the tough conditions on construction vehicles (strong vibrations, dust, wetness, mechanical shock, etc).
The LED technology enables a lifetime of over 20,000 hours. The C140 LED headlamp is a fully sealed, maintenance-free system: it eliminates the need to replace bulbs, saving time and money for the final consumer. The low LED power consumption compared to conventional halogen headlamps also saves fuel, further driving down costs. The C140 LED meets all ECE requirements.
To find a HELLA reseller near you, click here.
Rollover/tap the icons below for further details:

LED Technology

ECE Certified
Product has been type approved to all relevant UN ECE Regulations to allow use on Australian and New Zealand roads.

Multivolt™
Multivolt™ for optimum performance in 12 and 24 volt systems.

Stainless Steel Bracket
Benefits include strength and corrosion resistance.

5 Year Warranty
This LED based lighting product carries a 5-year warranty covering faults in materials, components or workmanship. Please refer to HELLA's full terms and conditions.
Options
Specifications
Mounting

Single bolt mount, upright.

Voltage

Multivolt™ for optimum brightness in 12 and 24 volt systems.

Power Consumption

High beam: 40W
Low beam: 25W
Indicator: 8W
Position: 1W

Protection

IP 6K9K (Protection against dust and high-pressure/steam jet cleaning)

Connection

6 pole DT socket

Spare Parts

| | |
| --- | --- |
| 4963-P | 6 pole DT plug, wedge and 6 contacts |

Compliance

E1

4079
ECE R112/01
Ref. 12.5
ECE R6/01
ECE R7/02
Outline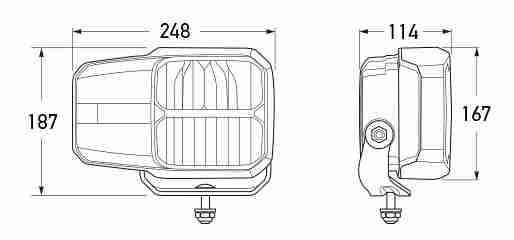 All dimensions in mm.