90mm Bi-LED 2nd Generation Headlamp
LED high/low beam headlamp featuring a generous spread of light and strong high beam for the open road. Low power consumption and ultra long life equates to economical running costs compared to a bulb lamp. Exceptional white light output and extremely homogeneous illumination for reduced driver strain which means greater safety. Complete with 4 screw adjusters and DT plug.
To find a HELLA reseller near you, click here.
Rollover/tap the icons below for further details:

LED Technology

Multivolt™
Multivolt™ for optimum performance in 12 and 24 volt systems.

ECE Certified
Product has been type approved to all relevant UN ECE Regulations to allow use on Australian and New Zealand roads.

5 Year Warranty
This LED based lighting product carries a 5-year warranty covering faults in materials, components or workmanship. Please refer to HELLA's full terms and conditions.
Specifications
Mounting

3 point mount, screw adjusters included.

Voltage

Multivolt™ for optimum brightness in 12 and 24 volt systems.

Power Consumption

| | |
| --- | --- |
| High beam: | 30W |
| Low beam: | 20W |

Protection

| | |
| --- | --- |
| IP 6K4K | (Protection against dust and high-pressure water splash) |
| IP 6K9K | (Protection against dust and high-pressure/steam jet cleaning) |

Connection

4 pole DT socket

Spare Parts

| | |
| --- | --- |
| 4962-P | 4 pole DT plug kit (included) |

Compliance

E1

4209 Ref. 12.5
ECE R112/01
Outline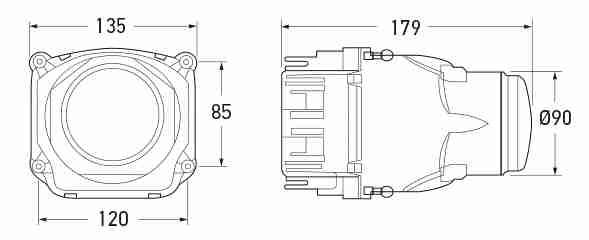 All dimensions in mm.
Light Output

P/N 1032-G2 High Beam distance in metres. Recorded with two lamps.