Rear Direction Indicator Lamp - 66mm Module
The lamp features a reflector with a high quality facet pattern and a clear lens. Optimised light output, making applications behind outer cover lenses possible.
For 24V applications, please install bulb P/N RY2421
To find a HELLA reseller near you, click here.
Rollover/tap the icons below for further details:

ECE Certified
Product has been type approved to all relevant UN ECE Regulations to allow use on Australian and New Zealand roads.

12 Volt Bulb Included
Specifications
Mounting

Mounting depth of 80mm. The standard version is designed to be mounted with a screw fitting from the rear.
If required the lamp can be fitted from the front using an optional mounting plate. Simplified electrical connection via a two or three pin plug (not supplied).

Bulb to Suit

Accessories

| | |
| --- | --- |
| 9HB 161 122-007 | Silver Design Ring for 60mm modules (Optional) |
| 9XD 161 119-007 | Mounting Plate |
| 8JD 156 150-807 | Two Pole Plug (with terminals AND seals) |
| 2SB 009 362-021 | LED Ring Stop/Rear Position Lamp - 12V |

Compliance
Outline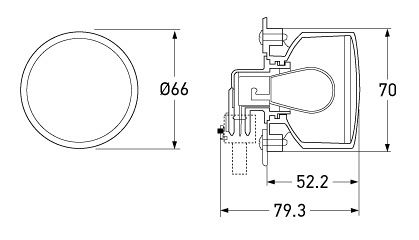 All dimensions in mm.