90mm LED High and Low Beam Headlamps
New from HELLA, 90mm LED headlamps are designed as cost effective replacements for halogen headlamps found on many New Zealand manufactured buses and coaches. Featuring a robust aluminium housing, tough polycarbonate lens, and an innovative optical reflector system, the new headlamps produce a controlled, homogeneous distribution of light synonymous with the HELLA brand.
The new 90mm headlamps are an excellent upgrade over halogen lamps to deliver the advantages of a maintenance-free service life and reduced operating costs, positioned at a competitive price and performance level between HELLA's halogen and premium LED headlamps.
• Cost effective replacement for Halogen headlamps
• Multivolt for 12V and 24V vehicles
• Crisp white light
• Maintenance free design
• 5 year warranty

Rollover/tap the icons below for further details:

LED Technology

Multivolt™
Multivolt™ for optimum performance in 12 and 24 volt systems.

ECE Certified
Product has been type approved to all relevant UN ECE Regulations to allow use on Australian and New Zealand roads.

5 Year Warranty
This LED based lighting product carries a 5-year warranty covering faults in materials, components or workmanship. Please refer to HELLA's full terms and conditions.
Options
Specifications
Mounting

3 point mount, screw adjusters (not included)

Voltage

Multivolt™ for optimum brightness in 12 and 24 volt systems

Power Consumption

21W Low Beam
14W High Beam

Material

Lens - PC, Body - Aluminium Alloy

Weight

445g

Protection

Reverse polarity protection
IP 5KX (Protection against dust)
IP X4K (Protection against splashing water from all directions with higher pressure)
IP X9K (Protection against high-pressure cleaner, specific for road vehicles)

Connection

2 Pin DT socket (plug not included)

Compliance

E1

ECE-R149
0008 Low Beam
0009 High Beam Ref:17.5
ECE-R10 8993
Outline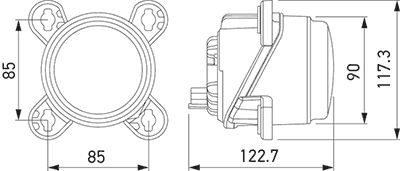 All dimensions in mm
Light Output
1K0 015 050-021 High Beam distance. (m)

1M0 015 050-011 Low Beam distance. (m)