Wedge Base Bulbs 9.5mm - Single Filament
Single filament, double contact bulbs.
Many bulb applications have multiple options in terms of colour, brightness & duty.

To find a HELLA reseller near you, click here.
At HELLA, we have been designing, developing and manufacturing automotive lighting solutions since the motorcar was first produced. Today HELLA automotive bulbs are renowned for their uncompromising adherence to the highest quality and safety standards.
Try HELLA's free online tool, the HELLA Bulb Configurator, which makes it easy to select the correct bulbs for your vehicle.
Rollover/tap the icons below for further details:
Specifications
Voltage

12V and 24V respectively

Power Consumption

2W, 3W, 5W, 12W, 16W and 21W respectively

Base

W2.1 x 9.5d

ADR 51/00 Category

| | |
| --- | --- |
| Bulb | ADR 51/00 Category |
| 3W Bulbs | W3W |
| 5W Bulbs | W5W |
| 5W Amber Bulbs | WY5W |
| 16W Bulbs | W16W |

Note

Bulk bulbs (other than Halogen) are sold in packs of 10.
Outline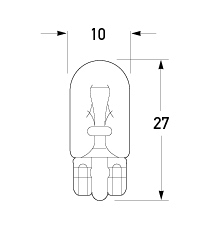 2W, 3W and 5W Bulbs - All dimensions in mm.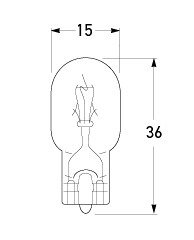 12W, 16W and 21W Bulbs - All dimensions in mm.