DuraLED® Combi-S Stop/Rear Position/Rear Direction Indicator/Reversing Lamp
The DuraLED® Combi-S Lamp features all the specs of the popular 2380 in a new slim design with a depth of only 25mm. The lens is made of Grilamid® the Swiss Made high performance polyamide. This superior performance material offers unmatched resistance to impact, long term UV exposure and commonly used chemicals.
HELLA's 'Fit and Forget' by Design Philosophy ensures the service life of this lamp is aimed to outlast the life of your vehicle. The new slim DuraLED® Combi-S is covered by our Lifetime Warranty.
The now iconic DuraLED® range revolutionised safety of the New Zealand and Australian transport fleets. First conceived and field trialled by HELLA New Zealand in 1998, our radical pursuit to create a range of 'Fit and Forget', highly visible LED Marker and Signal Lamps, permanently lowered the cost of ownership for our fleets and made our roads safer.
Tough under pressure
Completely sealed, maintenance free. Designed to withstand high pressure washing and temporary submersion.
Reliable – durable – ultra long service life
Superior materials feature UV, corrosion, impact and shock resistance ensuring an ultra long service life.
Hella Compatibility Solution HCS
| | |
| --- | --- |
| | For more information on HELLA Compatibility Solution (HCS) click here. |
Features RFCommSafe™
To view and download more information please click here
To find a HELLA reseller near you, click here.

DuraLED® Lifetime Warranty
All HELLA DuraLED® products carry a Lifetime Warranty.
Note: Lifetime means the economic life of the vehicle these products were first installed on.
Rollover/tap the icons below for further details:

Fit and Forget
Fit and Forget by Design means every aspect, material and component of this lamp has been carefully chosen to ensure longevity in the most demanding environmental conditions.

LED Technology

RFCommSafe™
RFCommSafe™ products were developed in recognition that some radio communication equipment can be very sensitive in remote areas. RFCommSafe™ products are designed to ensure no interference with any other electronic equipment.

ECE Certified
Product has been type approved to all relevant UN ECE Regulations to allow use on Australian and New Zealand roads.

24 Volt
Suitable only for 24VDC applications.

Grilamid® Lens
Grilamid® is a high performance polyamide manufactured in Switzerland. The revolutionary transparent plastic offers an unbeatable combination of exceptionally high impact strength and resistance to long-term UV-exposure and chemical damage.

HELLA Compatibility Solution (HCS)
Available with HCS. For information please refer to HELLA Compatibility Solutions under the Technology / Marker and Signal Lamps section.

Ultra Wide Visibility Optics
These lamps far exceed the minimum legal brightness requirement, and are much more noticeable to following drivers particularly as the vehicle in front turns and the stop or turn signal is viewed from an angle.

UV Resistant
HELLA New Zealand LED lamps are designed to withstand harsh environmental conditions and will tolerate long term exposure to high UV levels without fading or embrittlement.

Made in New Zealand
Options
Specifications
Optics

Optic appears clear until illuminated

Mounting

Two hole surface mount with mounting bushes supplied.
Suitable for horizontal mounting.

Voltage

24V DC

Power Consumption

| | |
| --- | --- |
| Stop: | 3W |
| Rear position: | 1W |
| Rear direction indicator: | 3W |
| Reverse: | 3W |

Protection

Reverse polarity and 5000 watt Transient Voltage Suppressor (TVS).

IP 6K7 (Protection against dust and temporary water immersion)
IP 6K9K (Protection against dust and high-pressure/steam jet cleaning)

Cable Length

Pre-wired with 2.5m of sheathed multi-core cable

Lens Material

Grilamid®

Compliance

E24

5894
ECE R6/01
ECE R7/02
ECE R23/00
ISO 13207-1
ECE R10
Outline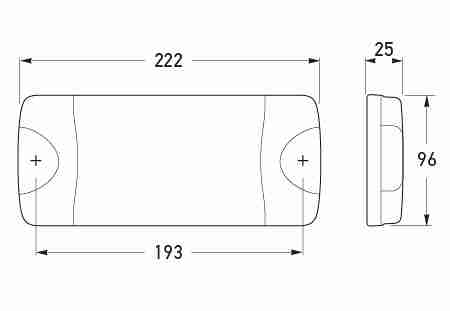 All dimensions in mm.