EuroLED® 75 Down Lights - Spring Clip Mount
Round LED high intensity downlights offering class leading efficiency and durability. Supplied with white or polished stainless steel rims to suit.
RFCommSafe™ - To view and download more information please click here
To view product designed for the New Zealand market, please click here
Rollover/tap the icons below for further details:

LED Technology

RFCommSafe™
RFCommSafe™ products were developed in recognition that some radio communication equipment can be very sensitive in remote areas. RFCommSafe™ products are designed to ensure no interference with any other electronic equipment.

12 Volt
Suitable only for 12VDC applications.

24 Volt
Suitable only for 24VDC applications.

Polycarbonate Lens
Polycarbonate features a high impact resistance when new; however the trade-off is the degradation over time when exposed to a number of commonly used chemicals and long term UV-exposure. The use of Grilamid® lamps are recommended where applicable.

UV Resistant
HELLA New Zealand LED lamps are designed to withstand harsh environmental conditions and will tolerate long term exposure to high UV levels without fading or embrittlement.

5 Year Warranty
This LED based lighting product carries a 5-year warranty covering faults in materials, components or workmanship. Please refer to HELLA's full terms and conditions.

Dimmable Analogue DC Input
Light intensity is reduced as the DC input voltage is reduced below the lamps specified operating voltage.

Dimmable PWM
Light intensity is adjusted between 10-100% using a high frequency PWM (pulse width modulation) DC power supply, with adjustable duty cycle control.

Made in New Zealand
Specifications
Mounting

Recess mount, 72mm hole.

Power Consumption

<3W

Protection

Reverse polarity protection

| | |
| --- | --- |
| IP 6K7 | (Protection against dust and temporary water immersion) |
| IP 6K9K | (Protection against dust and high-pressure/steam jet cleaning) |

Cable Length

Pre-wired with 120mm of cable

Compliance
Outline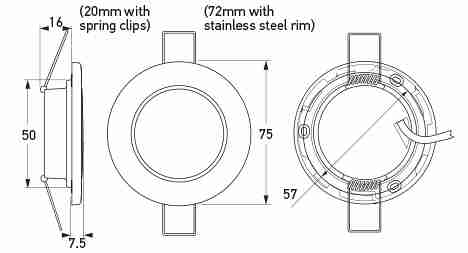 All dimensions in mm.
Light Output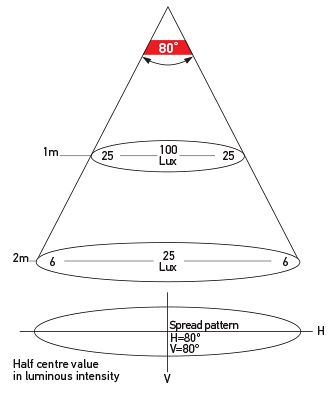 Illumination Chart: White Light