EuroLED® Touch 150 Down Lights - Single Colour
Easy lighting control
Touch white pad to turn on and black pad to turn off.

Glare diffusion without light loss
Advanced HELLA lens technology provides safe, smooth and uniform light pattern, without glare, eye strain or discomfort.

Tough under pressure
Completely sealed, maintenance free. Designed to withstand high pressure washing and temporary submersion.

Reliable – durable – ultra long service life
Superior materials feature UV, corrosion, impact and shock resistance ensuring an ultra long service life.

Available in white or warm white/red light and white plastic or stainless steel rim. Clear lens.
To find a HELLA reseller near you, click here.
Rollover/tap the icons below for further details:

Fit and Forget
Fit and Forget by Design means every aspect, material and component of this lamp has been carefully chosen to ensure longevity in the most demanding environmental conditions.

LED Technology

Multivolt™
Multivolt™ for optimum performance in 12 and 24 volt systems.

Polycarbonate Lens
Polycarbonate features a high impact resistance when new; however the trade-off is the degradation over time when exposed to a number of commonly used chemicals and long term UV-exposure. The use of Grilamid® lamps are recommended where applicable.

5 Year Warranty
This LED based lighting product carries a 5-year warranty covering faults in materials, components or workmanship. Please refer to HELLA's full terms and conditions.

Made in New Zealand
Specifications
Mounting

Recess mount, 124mm hole.

Voltage

Multivolt™ for optimum brightness at input voltages from 9 to 33 volts.

Power Consumption

4W

Protection

Reverse polarity and transient spike circuit protection
Sealed against dust and water ingress.

Cable Length

Pre-wired with 0.5m of sheathed multi-core cable

Compliance
Outline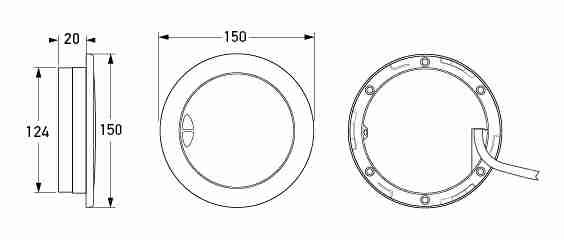 All dimensions in mm.
Light Output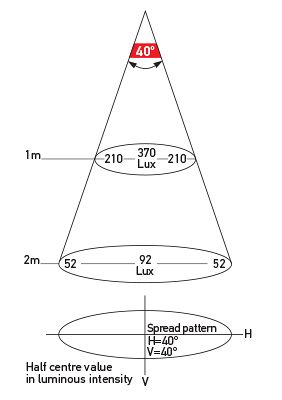 Illumination Chart: White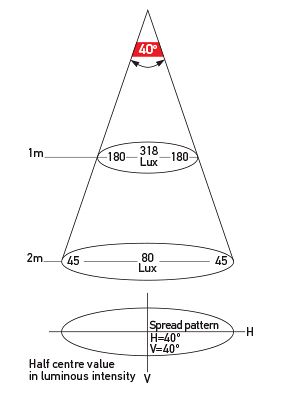 Illumination Chart: Warm White