EuroLED® 95 Gen 2 Square Down Lights - Recess Mount with Spring Clip
EuroLED® 95 Gen 2 Square down lights combine the latest in style, functionality and performance. The smooth diffused lens creates a comfortable and uniform appearance with over 420 lumens of actual light in a broad and even illumination.
The ultimate in versatility, with a choice of light temperature between 5000K white – best for enhanced brightness in working conditions to 2700K warm white – creating a cosy atmosphere and bringing out the best in wooden furniture. A high colour rending index of 80+ also ensures object and surface colours are replicated naturally. The secondary Red LED colour also adds increased functionality by enhancing night time visibility. Secondary Blue LED colour creates a feeling of calm and adds 'wow-factor'.
• Slim profile of only 2.5mm
• Multivolt™ suitable for 12 and 24 volt systems
• Easy Installation with 316 stainless steel spring clips
• Dimmable via PWM (Both colours)
• Smooth diffused lens
• Completely sealed IP6K9K
• UV and impact resistant
• 316 stainless steel trim

To find a HELLA reseller near you, click here.
Rollover/tap the icons below for further details:

Fit and Forget
Fit and Forget by Design means every aspect, material and component of this lamp has been carefully chosen to ensure longevity in the most demanding environmental conditions.

LED Technology

Multivolt™
Multivolt™ for optimum performance in 12 and 24 volt systems.

High Impact Acrylic Lens Material
This specially formulated high impact acrylic (PMMA) offers enhanced resistance against long term UV-exposure and commonly used chemical washes, liquids, etc.

UV Resistant
HELLA New Zealand LED lamps are designed to withstand harsh environmental conditions and will tolerate long term exposure to high UV levels without fading or embrittlement.

5 Year Warranty
This LED based lighting product carries a 5-year warranty covering faults in materials, components or workmanship. Please refer to HELLA's full terms and conditions.

Dimmable PWM
Light intensity is adjusted between 10-100% using a high frequency PWM (pulse width modulation) DC power supply, with adjustable duty cycle control.

Made in New Zealand
Specifications
| | |
| --- | --- |
| Mounting | Recess mount, 76mm diameter hole. Spring clip. |
| Voltage | Multivolt™ for optimum brightness at input voltages from 10 to 33 volts. |
| Power Consumption | 6W |
| Protection | IP 6K9K (Protection against dust and high pressure/steam jet cleaning) |
| Cable Length | Pre-wired with 120mm of cable. |
| Compliance | |
Outline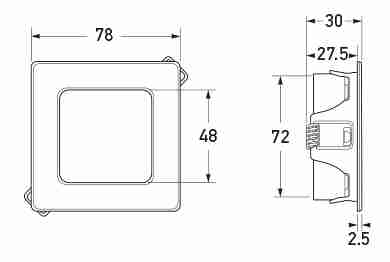 All dimensions in mm.
Light Output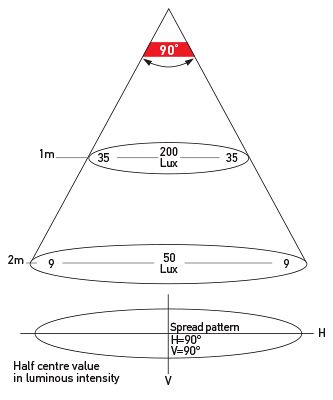 Illumination Chart: White/Warm White