DuraLED® Combi-S White 50 LED Lamp with DT Connector
DuraLED® Combi-S White 50 LED lamps are now also available pre-wired with DT connector for convenient plug & play, therefore offering increased versatility.
With the DT socket, the lamp can be quick and easily connected to a wiring harness. Additional cable accessories include a switch option, a Y-splitter to add more lamps if required, and a 2.5m extension cable.
To find a HELLA reseller near you, click here.
DuraLED® Lifetime Warranty
All HELLA DuraLED® products carry a Lifetime Warranty.
Note: Lifetime means the economic life of the vehicle these products were first installed on.
Rollover/tap the icons below for further details:

Fit and Forget
Fit and Forget by Design means every aspect, material and component of this lamp has been carefully chosen to ensure longevity in the most demanding environmental conditions.

Multivolt™
Multivolt™ for optimum performance in 12 and 24 volt systems.

Grilamid® Lens
Grilamid® is a high performance polyamide manufactured in Switzerland. The revolutionary transparent plastic offers an unbeatable combination of exceptionally high impact strength and resistance to long-term UV-exposure and chemical damage.
50 LED

UV Resistant
HELLA New Zealand LED lamps are designed to withstand harsh environmental conditions and will tolerate long term exposure to high UV levels without fading or embrittlement.

Made in New Zealand
Specifications
Mounting

Two hole surface mount with mounting bushes supplied.

Voltage

Multivolt™ for optimum brightness at input voltages from 9 to 33 volts.

Power Consumption

<12W

Protection

Reverse polarity and transient spike circuit protection

| | |
| --- | --- |
| IP 6K7 | (Protection against dust and temporary water immersion) |
| IP 6K9K | (Protection against dust and high pressure/steam jet cleaning) |

Cable Length

Pre-wired with 130mm of cable with DT connector.

Accessories

| | |
| --- | --- |
| 8KA 958 360-001 | 2 Pole Switch plug and socket (300mm) |
| 8KA 958 361-001 | 2 Pole Y-splitter joint plug and socket (300mm) |
| 8KA 958 363-001 | 2 Pole DT extension plug and socket (2.5m) |

Lens Material

Compliance
Outline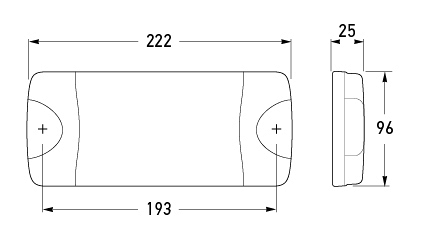 All dimensions in mm.
Light Output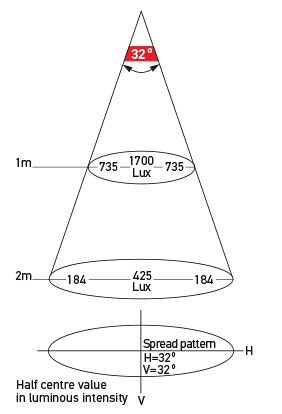 Illumination Chart: Spread