Reversing Alarm 87-112dB Heavy Duty - Evacuator Plus
The Evacuator Plus heavy duty reversing and warning alarm features a lightweight piezoelectric output circuit. The reduced weight of just 129 grams makes the Evacuator Plus virtually immune to vibration damage.
Unique nickel plated conductive terminal inserts, which provide power to the alarm, are hermetically sealed, giving superior water resistant performance. The housing is constructed of high impact ABS plastic resin and is environmentally sealed against moisture, dust and corrosion.
Evacuator Plus reversing and warning alarms are steam cleanable.
To find a HELLA reseller near you, click here.
Rollover/tap the icons below for further details:

Multivolt™
Multivolt™ for optimum performance in 12 and 24 volt systems.
Options
Specifications
Mounting

Universal mounting comes complete with heavy-gauge plated steel mounting bracket.
Can be installed on positive and negative ground vehicles.

Voltage

Current draw

Less than 0.20A

Frequency

80 signals per minute (± 20%).

Sound Level

| | |
| --- | --- |
| 6042 | 87dB @ 1.2m |
| 6043 | 97dB @ 1.2m |
| 6044 | 112dB @ 1.2m |

Temperature

Operating range -40ºC to 74ºC.

Protection

Protection against dust and high pressure washing

Compliance

SAE J994
Outline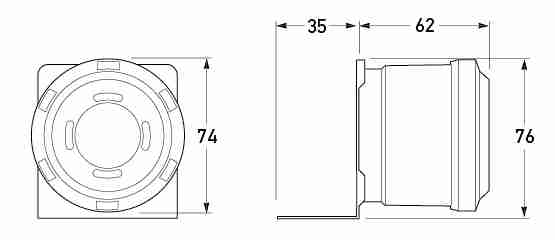 All dimensions in mm.