Back
Subscribe to Hella News
LED Light Bar 470 with Front Position Function
14 November 2020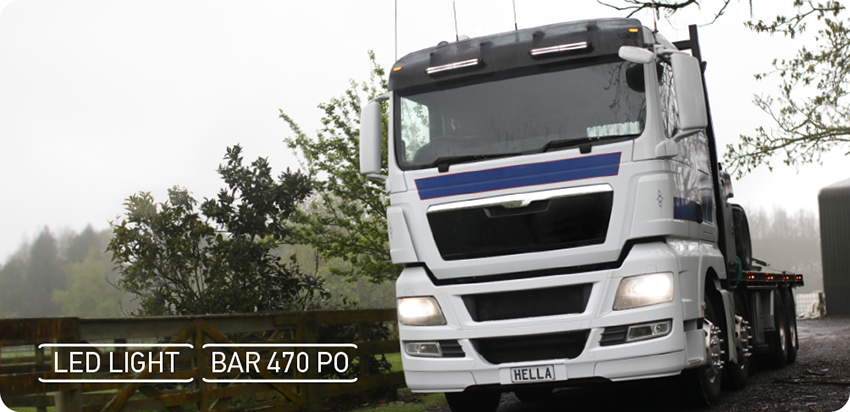 LED LIGHT BAR 470


FIND OUT MORE
WITH FRONT POSITION FUNCTION



Introducing a world-leading innovation from HELLA to enhance the front of your vehicle. For the first time, striking LED light pipe technology has been integrated into a powerful high beam headlamp light bar to provide an innovative position light.

➔ High beam with integrated front position light
➔ Approved for use in New Zealand and Australia
with ECE compliance (Two Lamps)
➔ 16 high performance automotive grade LEDs
➔ Maximum luminous intensity of 113,000 candela
➔ Highly adaptable mounting system
➔ Thermally conductive non-metal housing
➔ 5 year warranty

Multivolt™ circuitry means the dual function lamp can be used on 12V or 24V DC, whilst only consuming 36W on high beam. Any input between 9 to 33 volts offers optimum brightness.

The adjustable mounting system ensures for easy installation and flexibility for any orientation. (Must be mounted according to local installation regulations for High beam and Position lamps.) Exceptional HELLA durability and long-term reliability through unmatched corrosion resistance and toughness is provided by a thermally conductive polymer housing.

Designed and manufactured in New Zealand for Fit and Forget peace of mind, the completely sealed HELLA LED Light Bar series is covered by a
5 year warranty.

Innovative position light using LED light pipe technology

Mounting brackets can be positioned
to suit most vehicle installations.

All dimensions in mm.