Back
Subscribe to Hella News
THE EXPO 2017
20 March 2017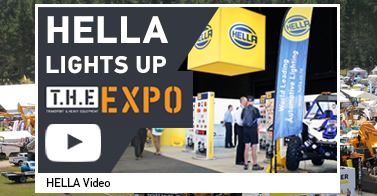 For 3 days THE Expo, New Zealand's only all-encompassing Transport and Heavy Equipment Expo, turned the Mystery Creek Event Centre in Hamilton into a mecca for the Who is Who in the transport industry. Between the 2 – 4 March thousands of visitors took the opportunity to get first-hand information about the latest state of the art technology from the many exhibiting companies.

Positioned in the main pavilion, the HELLA New Zealand stand had an extensive range of the latest LED lighting solutions on display with the brand new 7" Round LED Headlamps being a highlight. The superior lamps - launched at THE Expo - were in such demand that distributors from other stands sent their customers to the HELLA experts to explain the many advantages of the aesthetically pleasing round lamps.

Other products that generated a lot of interest were the soon to be released new BL470 LED work lamp with an ultra-wide and diffuse flood lens, the ever so popular LED Light Bars 350 and 470 and the iconic HELLA DuraLED® lamp range.

Another feature that drew a crowd was the impressive ATV vehicle equipped with the high output and sleek profiled HELLA LED Bar Lights.

HELLA's NZ designed and manufactured lighting solutions were not restricted to the HELLA stand. Visitors could find many products fitted throughout THE Expo stands on distributor displays or show vehicles like the Ryal Bush truck equipped with 11 Jumbo 320 Driving lamps.

HELLA Expo Stand in the main pavilion.
(Left) Iconic HELLA DuraLED® lamp range. (RIght) HELLA BL470 and BL350 LED work lamps.
During THE Expo HELLA also ran a show competition with the chance to win a GoPro Hero 5. From 186 entries, Temu Masters from Earthtec Projects in Riverhead was drawn as the lucky winner. "I've never won anything. This definitely made my day", the excited winner exclaimed. (Shown receiving GoPro Hero 5 with North Island Sales Manager Derek Schick - Right)

The HELLA staff would like to thank everyone who visited the HELLA stand and all our loyal customers that supported and displayed our product at THE Expo.

For more information please contact your local sales team.